Hello there,
Some personal reasons kept me from writing. This doesn't mean that my PSP was forgotten in a corner. It saw quite a few games (I'll have to check my saves list in order to refresh my memory though – they were quite a few).
I'll write today a few words about the game that saw the screen of my toy most of the time I've missed this site. Obviously you can find it in the title of this article. I have no idea what "plus" comes from. I suspect that's the PSP features – back in '05 you can find the usual ad-hoc and as an extra (?) the possibility to send/update scores and replays. I didn't bother to google it though, i don't think that's that important.
In one of the past articles I was writing about PC-PS2-PSP games comparison – assuming that is even possible. Well, so you can have a good idea this version is somewhat 95% like the PC version of the game – CMR 2005 doh
.
What this game has to offer? Rally. Cars. Tuned cars (although back then they weren't that popular). Actually I have no idea if WRC is that popular nowadays but I really like the idea of driving this kind of car in all sort of roads. You can find a lot on info on this here. Actually you'll find there a pretty good idea of the cars you'll find there, from the old "raw power" age till today's extra regulated WRC cars including some special models like VW Beetle RSI, MK1 Escort or the legend Mini Cooper S. Plenty of choice here. The career mode makes you try them all and adapt your driving style according to the car you're driving and the rally stage you're in – mind the weather to, it's not a factor to neglect either.
Overall, one of the best car games ever – if you don't like the rally and motor sports give it a 8. If you do, it's almost perfect, 9.5! Make sure this game lands on your PSP!
From the dark sides of my mind(this game is the second iPhone/iPod touch game I developed) here comes Day of the Flying Pumpkins, an alert, simple and fun casual game, which made its way on Apple's AppStore just in time for Halloween.
The simple theme – just tap pumpkins before time runs out, trying to get as big a score as possible doesn't do  the game justice. 'Day of the Flying Pumpkins' is a cute looking and addictive casual game, easy to learn but hard to master. Special bonuses, level deadlines running out, dangerous skulls you need to avoid and, off course, the flying pumpkins you need to blast as fast as possible, cute soundtrack and nice looking explosions, all combined in a unique concept.
Hello there, it's been long since I have some spare time to write a few words about some games that I (still) play on my PSP. Actually I've played a few – some of them keeping me a few good night hours playing them – I don't know if I will be able to finish this game – the lack of time and sleep prevents me from doing it – as well as a pleasant surprise the game has to offer – but a bit later about that.
I'm checking here – and it has been long since I've written any article here it seems – sorry ed
– but here I go. Checked the last need for speed or some of the series? Tuned cars, action, hip-hop style music. I usually compare this games with the PC version – I do this because I don't own a console except for the PSP and also because I think people are more familiar with these versions. But let's see. I don't know the numbers tthing o be honest – I have no idea how many cool cars ready to race are aut there but at the first glance are a lot.
A nice addition is the bonus each kind of cars has. The bosses are also a good idea. But the thing that attracted me is the feeling this game offers – it's simply addictive! You want to play more and more and you are really sorry when the tube gots to the station you want to get off to – or when the tram that gets me to work reaches the destination and I almost feel sorry that I have to shut down my PSP, interrupting my race series… Good thing the PSP has this thing that "freezes" the game and you can resume it in a matter of seconds next time you open the console. In my case… the tram back home of course:).
Hello, Star Wars fans! I've got this game recently and kept me busy for some while. If characters like Luke Skywalker, Han solo, Darth Vader ring a bell to you then you should play this game, you'll find here the universe you like, but packed with a lot of action.
There is no force training or no introspective thinking like the movie has sometimes. You'll find here action. A lot of action. The gameplay is – taking into consideration the PSP control limitations – like the PC game – multiplayer based, spawn points and revival as soon as there are enough reinforcements available.
Read the rest of this entry »
Lately an old game got my full – and I mean full – attention. Read a lot of lost hours of play. Honestly I don't even bother to use the battery of the PSP, I plug the charger directly so I won't be cut out in the middle of the action by battery low and shut down screen.
Hello there, another day at the office and thus little time to type in a few words about a PSP game I've just finished. Unfortunately for PC users (or happily for all playstation system owners) Syphon Filter together with the agent Gabe Logan didn't appear on the PC at all.
What can I say? This is one of the games that make a console sell, it's a good combination between tactics, action, some puzzles and various missions. The series follow the agent Gabe Logan and his partner (although she appears briefly in some of the games including this one. Speaking of secondary character the Chinese agent and the French one – both girls a la Bond
– add some spice to the story.
Let me think what this game has to offer: as landscape there is a ship – inside and outside, a misty forest with a military base, an underwater mission, a dam and a desert. In terms of scenery there are a lot of twists and scripted pieces of action that add a plus to the feeling – the continuous escape of the Chinese agent or the 2-way escape from the prison are really enjoyable.
Speaking of which, there are some kind of puzzles that require your attention, keeping you from getting bored of shooting and walking around the stage. I've given the example with the escape from the prison, during which you're given the chance to press a sequence of buttons in the right order and as quickly as possible. In the example given, if you don't manage to do this then you'll be thrown into jail, but if you do it properly then you'll be able to kick the officer's ass and even throw him in the electric chair and electrocute him. Really nice
.
Even there are some minuses like the AI which is very weak and the hard level of difficulty means that it has more firepower not
that it is more clever, it is a great game, and an experience not to be missed, the secrets and the interesting bonus level that has no action but gives you an insight on the game make up for it. 8.5 out of ten in my opinion. If you have a PSP, a playstation 1 or 2 you should not miss the series, I totally recommend it.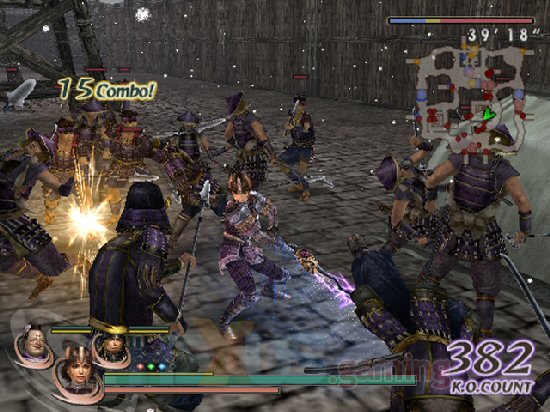 Here is another PSP game which I find pretty good. Last week while checking for some new games on some game sites I've found this one. What attracted me was the strange name. Is it a strange game too? Since out of the ordinary games appeal to me, I said to myself it would be a good idea to try this game too. And I am not sorry at all, I was surprised (although I'm used to the PSP and the kind of games it has).

It's been quite a while since we last talked mobile games here on MobiCritic, but now the time of waiting is over. So gather around and let me tell you about an exciting, nice-looking and extremely fun mobile game – Treasure Towers.
One of the best things about Treasure Towers is that it's free – completely free – for Sony Ericsson mobile phones, that is. In order to download it onto your phone, all you have to do is – to go, using your mobile phone browser, to www.sonyericsson.com/fun, select the Games category and… well.. look for it. Since it's free, you'll only pay for the data transfer to your mobile network operator.
So, back to Treasure Towers now.
You're an Indiana Jones-like lizard jumping on a pogo-stick on the inside of a cylindric 3D tower. The view is gorgeous and you could have fun just jumping around, but you actually have to hurry and find your way to the top, 'cause the tower is slowly filling with water – and you wouldn't want to drown, right?
Read the rest of this entry »
Hello again, I write after a break – actually not a break, because this game kept me busy all this time. And I mean busy, this game kept me playing and playing at least 4 hours every day.
How come? Well, I've heard about Dungeon Siege before. It was about a friend asking me to try to help her to pass a quest because she heard of my gaming reputation. The game didn't rise much interest from me at that time because I had other games in mind, I was playing World of Warcraft, Heroes 5… so there was not that much time left for that game. Two weeks ago though I bought the PSP version of the game and I was not sorry. At all.
Read the rest of this entry »
"Life wasn't so bad after all. That if you don't mind my father kicking me early in the morning.". This is an approximate quote from the introduction of this game. The game starts quietly, Colton the main character and his faith, Ned have to get up early in the morning to hunt, "'cause the traders don't wait for us". Wild west. quiet life. A sign of trouble when a grizzly bear attacks your father and you have to rescue him – good occasion to use his rifle. Nice, isn't it? This is only the tutorial
.
Yes, I love this game. From the end of the tutorial things are developing fas, you loose almost everything and your life changes completely. And not only once during the game, you cannot trust anyone and everything it seemed right becomes wrong and vice versa. Yeah, this sentence makes no sense if you don't play this game.
Read the rest of this entry »